Active Directory Address Book


"One place for your organization contacts".
Publish your company Active Directory users information as an address book on your SharePoint site with our SharePoint add-in
Compatibility: SharePoint online (Office 365).
It makes sense to have your company directory available on your SharePoint site. Employees can browse, search and find very quickly colleagues data through your internal company site. You could maintain a specific employee data list, but having your directory automatically completed with the information populated in your Active Directory is far better: you enter and maintain data only in one place (your AD), and that's it !
Note: you can use our Web Part for free if you connect it to a SharePoint list.
Main features
● Multiple views : alphabetical, per department, list
● Export contacts to MS Excel
● Synchronize with your Active Directory (*)
● Different themes/skins for smooth integration with your site colours
● Integrated search engine
● Documentation included
● Simple and easy deployment
● Compatible with SharePoint and SharePoint online
● Professional support and updates included (*)
(*) for licensed versions
How does it work ?
1. Install our SharePoint Web Part (from the Microsoft Office Store) on your SharePoint site.
2. Add an instance of the Web Part on a SharePoint site page.
3. Configure the Web Part: define the source to load your data from:
● a SharePoint list that you maintain manually (FREE, SPADListLoader tool can create the SharePoint list structure for free)
● a SharePoint list synchronized with your Active Directory (SPADListLoader tool to be installed on a server member of your Active Directory, will connect directly to your AD and feed the SharePoint list as a scheduled task)
● our Azure Bridge Web service (ROOTFUSION AD browsing service). This uses the Graph API from Microsoft.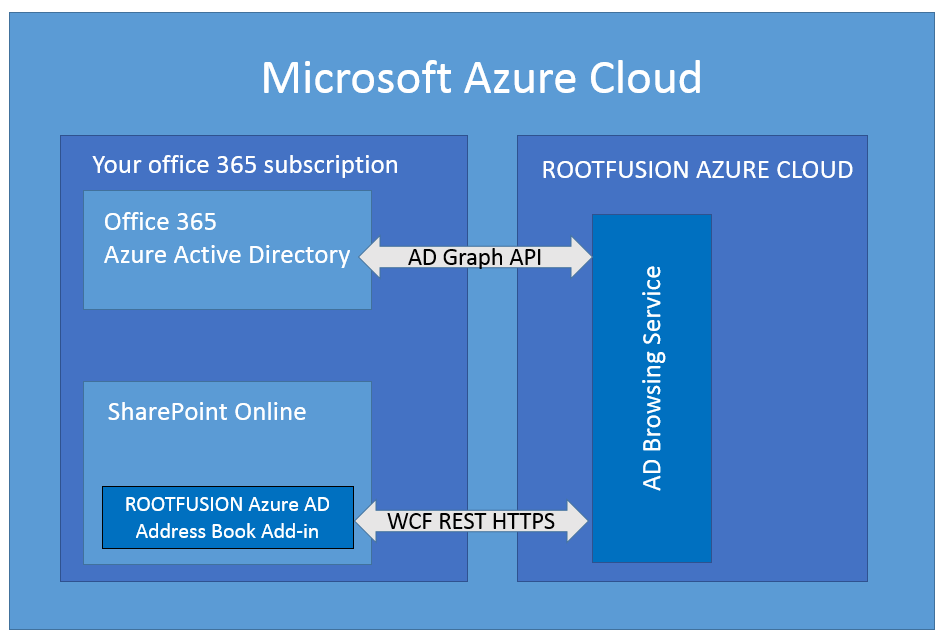 Download our Add-ins from MS Office Store
SPADListLoader
SPADLitLoader is a tool to use in combination with the Address Book Web Part, when a SharePoint list is defined as source for the Address Book Web Part.
It allows you to create the SharePoint list structure (free), and to synchronize the SharePoint list content with your Active Directory (for licensed version).
Download our tool from [Here] → checksum (SHA-1): F365B7283601EC48C6A791C18D4CD2C699C97C88
Download the documentation from [Here]